Walnut Street beside us. The plow has been through once at least. I can't capture snow flakes whizzing by on my camera, but they were certainly there. Steve and I hiked out for a bit of a walk to stretch housebound legs. We lasted about two blocks before we gave up.
What is this about?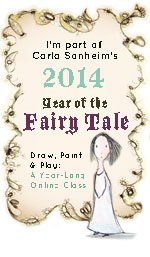 http://www.carlasonheim.com/2014-year-of-the-fairy-tale-online-class/
Like it says, I have joined up for another class with Carla Sonheim, (see the link and button on the side), it is a year long and each month we tackle another challenge. The overall theme is fairy tales, which I love because monsters and evil creatures can look crazy and princesses need tiaras and really cool purses. I am looking forward to some creative fun that is entirely unrelated to stitching. So far.
I've been following Susan in British Columbia on her blog
http://aslongasyouhaveagarden.blogspot.ca/
Susan has a concern that the world is full of grim and joyless events that are continually brought to our attention. To counteract this, Susan has created the Good Will Seeds blog. (see below and button) in an attempt to bring goodness into our lives. Goodness such as people getting together to fundraise for a seeing eye dog to stay with his owner upon the dog's retirement, or fashions for wheelchair bound ladies. Events that never make the news but make us all feel a little more hopeful. And useful.
http://goodwillseeds.blogspot.ca/p/blog-page.html
Station break for another blizzard photo, preparing to dig our way to the sidewalk. Recently Halifax joined other cities in having the sidewalks cleared by those crazy BobCat machines. I don't know what they were drinking the first time they set off as a fleet to clear our sidewalks, but the results were a disaster. This second time, the sidewalks are passable. Practice makes perfect they say.
Next up, my friend Cheryl has started a small business bringing decorating joy to homes. If you struggle with colours, arrangements of your stuff, furniture placement, curtains, Just What The Heck To Do with this ROOOM.... then you want Cheryl. I foolishly agreed to be a house on a house tour as a fundraiser a couple of years back and Cheryl saved my life. She came through, helped hide the problems, focus on the good points, create a few focal points and just calmed me down. Everyone loved the house, which surprised me, because our living room is a dark red. I thought only men liked red rooms, but the ladies were either very good liars or...they discovered they like red rooms. So contact Cheryl.
http://www.cjoyhome.com/
I believe this site connects you to Cheryl's face book page, which is more active than the blog.
For those of you who are interested in or are already F(friendly) to Quakers, here are two sites that I think are worth the trip.
Holy Ordinary is Brent Bill's blog. He writes, shares interesting poems from other writers, does photography and muses aloud. I have read two of Brent's books and think he is a solid writer.
http://holyordinary.blogspot.ca/
I am going to take a risk and recommend Robin M's blog "What Canst Thou Say", a Quaker blog from San Fransisco.
http://robinmsf.blogspot.ca/
I don't know yet why I say I'm taking a risk, I guess because Robin's blog is new to me and I haven't spent a lot of time there yet. Maybe it feels more personal than Brent's but that isn't fully true. I don't know, I'll have to think about this a bit.
I just read a terrific book that I think is worth talking about. "Small as an Elephant" by Jennifer Richard Jacobson. This would be a great read-a-loud. I read it on my own in a day. Jack has gone camping with his Mom in Maine, they've had an argument on the way up. The next morning, Jack wakes up to discover his Mom has taken off. Just like that. Jack tries to find his Mom without anyone finding out that he's alone. As the story develops and the situation worsens, we discover the story behind Mom's leaving, the strength of Jack, the feeling of desperation in trying to solve an insurmountable problem and the kindness of strangers. This is catalogued as a middle grade book, but I think the adventure of Jack being on his own for a week at a young age makes this very readable for older ages. And you adults, you can remember what it's like to feel brave and frightened at the same time. Get into your kid's heads.
here
Next week, you are forewarned. I have been working on several posts on the topic of Voluntary Simplicity. I will attempt to post 4-5 posts that week. Put your thinking caps on and bring a cup of tea. Or a piece of chocolate.